Happy April Fools Day peeps! A couple of industry giants are getting in on the fun today with a couple of new products and innovations. Today Toshiba introduced its 3D Monocle for those people who can't stand those "bulky 3D glasses and can't wait for glasses-less 3D", quite crafty and definitely debonair.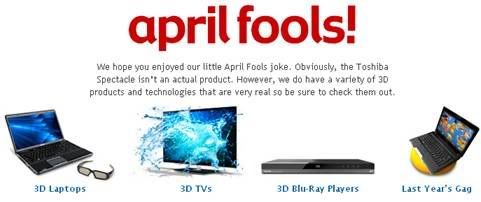 Kodak presents its new RelationShiffft technology that automatically deletes that unwanted someone from all of your photo memories. Now that is a handy application…
And, finally, Google has added a new feature to its popular Gmail tool with GMotion, now you can control your email with the flick of a wrist.