We have some very disturbing news to share with you. Buju Banton, the anti-gay Jamaican dance hall, ragga, and reggae singer, whose song "Boom Bye Bye" advocates killing gay men with submachine guns and by pouring acid on them, is coming to four Florida cities. We've included information on dates, times, venue locations and contact information for the promoters of his Rasta Got Soul Tour. Please contact them and express your outrage that they are promoting this hateful tour. We invite you to join the groups leading the movement to "Cancel Buju Banton Rasta Got Soul Tour 2009. Wetpaint" and on Facebook (Click the Links) to be kept in the loop on any actions planned for Florida and/or other States. With time being crucial, our best course of action at this time, is to contact and pressure promoters to cancel Florida's venues.
According to the Minnesota Independent, "In 2004, Buju Banton was investigated over the beatings of six gay men in Jamaica's capital city of Kingston; he was acquitted in 2006 for lack of evidence. Human rights activists pointed out at the time that Jamaican authorities tend not to handle such cases aggressively".
There's some good news, after pressure by GLBT and anti-hate groups, they succeeded in getting promoters to cancel Buju Banton venues in Salt Lake City, Columbus Ohio and Minneapolis. Add to this, promoters AEG and Live Nation canceled six of his shows due to outrage from LGBT groups in Chicago and Los Angeles. Richmond, Virginia achieved a victory by getting the Buju Banton moved, which was scheduled to take place on the very same day as the 25th Anniversary of the Virginia Pride Festival. While the show hasn't yet been canceled, where the show has been moved to has not been announced.
Let us work together to add Jacksonville, Tampa, Miami and Orlando to this list. Below is the list of Florida venue info, you'll find a link to a video of Buju performing his song "Boom Bye Bye." (above). It's difficult to understand him, except when he clearly says "There is no end to the war between me and faggots!", so included is the English translation and explanation of the lyrics.
Jacksonville, FL
Buju

Show Date: October 29, 2009

Show Time: 8:00 PM

Cost: $30

Venue Location: Plush 845 University Blvd N
Jacksonville, FL 32211-9224
Website: http://plushjax.com/leopard/index.htm (To Send Message: Click "Contact Us" for Online Message Form)

Tom Fisher, Marketing Director (904) 743-1845



Tampa, FL


Buju Banton & Wayne Wonder
Show Date:Friday, October 30, 2009

Show Time: 8:00 PM

Venue Location: The Ritz, Ybor City
(813) 247-2555
Email: okesene@theritzybor.com
Website: www.theritzybor.com



Miami, FL


Raggae Bash 2009

Performing: Buju Banton, Beenie Man & Wayne Wonder!
Show Date: Saturday, October 31, 2009
Show Time: 7:00 PM
Venue Location: James L. Knight Center
http://www.jlkc.com/

Lorenzo Muniz, General Manager
lmuniz@jlkc.com
(305) 416-5974



Orlando, FL

MR. C.C Presents RASTA GOT SOUL TOUR
BUJU BANTON & FRIENDS:

Show Date: November 1, 2009

Show Time: 7:30 p.m

Venue Location: Hard Rock Live, Universal CityWalk

Cost: $35-$45 advance, $42-$55 day of show
http://www.hardrock.com/LIVE2/live.asp



Hamish Dodds, President and Chief
Executive Officer
407.445.7625
customer_care@hardrock.com

Special Events
(non-food/beverage, music related)
Phone: 407-351-7625 x3022
Email: Colleen_Flynn@hardrock.com

Universal Orlando Guest Services
Main Number: 407-224-4233
http://www.universalorlando.com/citywalk.html
We can't allow such attacks to happen without our (GLBT) voices being heard as well. Take to action!!!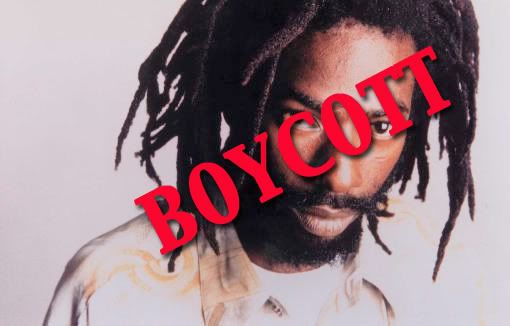 Submitted by Joe(y)